Announcing a pregnancy, telling the parents that you're pregnant and they'll soon be grandparents, is such an exciting time in a family's life. When you really want to surprise mom and dad, you might want to "freak out" the future grandparents with this pregnancy announcement keepsake ornament.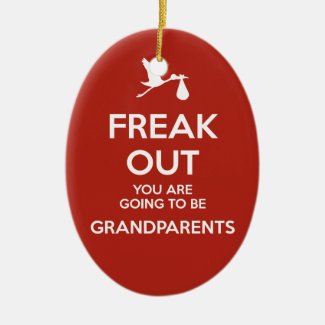 Pregnancy Announcement Grandparents
Christmas Double-Sided Oval
Ceramic Christmas Ornament
by
tobegreetings
Isn't it fun? The design was created with the popular "Keep Calm" trend in mind but, as the designer says, "Who are we kidding, no one is calm when a new baby is on the way!"
It's a two-sided ornament with more of the pertinent pregnancy details on the back. Customize the due date or compose your own message. You'll find variations for aunts, uncles, grandma, and grandpa (separately) in the artist's store along with additional designs.
For a slightly more formal announcement, I like this card design, also customizable:
Or, this artistic design on a high-quality card would make a beautiful keepsake, worthy of a frame or at least a prominent spot in the future baby's baby book:

You'll find more ideas for pregnancy announcements when you visit the links above.
So now . . . What's your pregnancy announcement story?
Our
contributor
Nancy Hardin shared this with us yesterday, on the day that this blog was born: "When my eldest daughter told me she was expecting, I was overjoyed. But that joy was magnified when after an ultra-sound, I learned she was expecting twins. My twin granddaughters were born, on the 9th of December, 1983, the very date of your new blog, but of course with a different year!"
I love that! Now it's your turn.
Do you have a "Gonna-be-a-grandma" or "How we told our parents we were expecting" story? Don't be shy! Our readers and I would love if you'd share it in a comment below.