Gifts That Grandparents Love and Actually Use!
A couple of years ago, I made one of the best and most unique gifts ever for the grandparents in our family, my mom and dad: Personalized photo blankets!
One-of-a-Kind Personalized Fleece Blanket with
Monogram and Black and White Photos
I'm not very artistic, so I was a bit skeptical going into the project. It turned out that the blankets were easy to design and the finished products definitely met and even surpassed my expectations. Both my parents couldn't stop talking about them. In fact, these are unique gifts that my mom and my dad like, enjoy, and actually use.
I chose
Walmart.com's Photos and Gifts
department when I made mine. They make it easy to choose a template, upload photos, and put together an attractive design using anywhere from one to thirty of your best photos along with optional text. I chose a monogram pattern when I made mine and I really like the look. The quality is excellent, too. I chose fleece; you might prefer a woven blanket or plush fleece fabric.
Another excellent option for making personalized blankets and throws is Zazzle. You'll find lots of ideas, all customizable, at
this link
. (Note that since I originally wrote this article I've ordered fleece blankets from Zazzle and have been very happy with the results, as was the gift recipient.)
Here are a few tips to consider when designing your own personalized blanket or throw.
When choosing photos, use the highest-resolution pictures that you have. I found the fabric to be amazingly forgiving, though, when I used a scan of a snapshot that was taken many years ago. It actually came out great.
Color or black and white blanket? I made one of each and both are beautiful. Go with whichever looks best to you or whichever you think the recipient might prefer.
Note that the blankets are big and, therefore, the pictures look huge on the finished product, much bigger than a snapshot that you hold in your hand. The look was a good one, though, and I had no complaints. Just don't be afraid to add a larger number of photos than I did. The more pictures, the more entertaining the blanket will be to Nanny or Grandpa.
When you're choosing photos, don't forget to include pet pictures. Or dedicate an entire blanket to a grandparent's cherished dog or cat. Here's a cute example from Zazzle.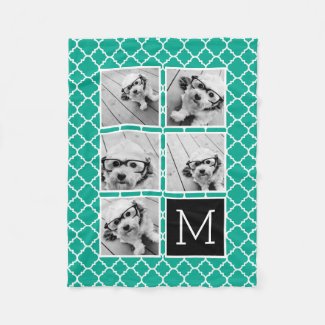 Emerald & Black Instagram 5 Photo Collage Monogram Fleece Blanket
by
MarshEnterprises
View another
Fleece Blanket

As I write this it's less than two weeks before Christmas, so perhaps too late to get the project done and delivered on time to beat Santa. Remember, though, that one-of-a-kind personalized photo blankets makes excellent gifts for a birthday, Valentine's Day, Mother's Day or Father's Day, Grandparent's Day, or just because you love them.
It's your turn to talk. Have you ever given or received a photo blanket or throw as a gift? Grandparents, is this the type of present you would like to receive? Please chime in!
~ Susan
Note: The author may receive a commission from purchases made using links found in this article.